The only way Survival Challenge is possible is with our amazing production team. An army of people who bring life to Survival Challenge. Some of the roles we have on production: Game Master, Host, Videographers, Editors, Crafty Crew, Challenge Developers, Idols & Advantages, Web Developers, and Casting. Most production members wear many "hats".
Michael Allbright
Production
Hello, my name is Michael, but you can call me Mike or Big Mike.
I have been an avid fan of Survivor since season one and over the past two decades I have had the
opportunity to meet 580 former Survivor players at charity events, finale weekends, parties and various
other creative ways. It was at these events I met the founders of the Survival Challenge, and I was even
a few tables over pounding West Virginia moonshine by the Melia pool, when the original event of
Durham Warriors Survival Challenge was created by John Vataha and Bob Crowley. Bob even invited me
to Durham to help with some of the Production elements for Season One in 2013, being one of the first
videographers, filming outhouse yurt confessionals, and trying to make sure Tribal Council existed. I
missed Season Two in 2014, but formally rejoined Production in 2015 (Season 3), and have served in
Casting, Lead Field Production, EP of Tribal Council and Rewards and I am a constant advocate for night
challenges and tribal councils. I resigned from Production the last day of Season 8 in 2021, for a chance
to apply and play in Season 9. I had been on the sidelines for a decade, and I wanted an opportunity to
test myself in the ultimate live Survival Game, and it and my 23 castmates thoroughly kicked my ass, but
it was one of the best experiences of my life. I pretty much rejoined Production while my season was
wrapping up in 2022, and I am excited to help with future seasons of the series and getting to meet so
many amazing people. Survival Challenge has created a wacky and amazing family!
Back in 2013, one of the readers of my Survivor strategy blog emailed me and asked, "Have you heard of the Durham Warriors Survival Challenge? I think you'd like it." Lou, that master of understatement, was wildly incorrect: I loved it. I applied. I played. I lost. But really, I won: I was invited to join the production team, and I've been helping shape the game ever since. (John Vataha is the true mastermind, but I'm his sounding board and game design idea refiner.) I'm also involved with casting, and once the season is underway, I oversee the Field Production team while conducting confessionals, doing exit interviews, and trouble-shooting the eleventy billion things that come up throughout the event. It's elegant chaos, and I love every minute of it. What started as a way to experience the game of Survivor has become something far more profound: the SC team is family, and every summer, the pilgrimage to Macomb is a reunion, a homecoming, one that I share with my son and my dearest friends. And to do all that while chasing people around in the woods and making them vote each other out? Heaven.
Baltazar Benavides
Production
I've loved Survivor since it first began, but only learned about Survival Challenge in 2021 when I was searching the internet for challenge inspiration for my own homemade game. I had the time of my life playing in Season 9; I was so taken with the immersive depth of the game design and the magnetism of our cast. Having seen how impactful my homemade game has been for friends who weren't even that familiar with Survivor, I knew I wanted to contribute to creating the grand experience that is Survival Challenge for its next season of players.
Originally from Houston, TX, I've lived in Philly for the past 2 years with my fiancé, Tommy, and my dog, Elizabeth.
Matthew Brinkley
Production
What's Tea! I'm Matthew and Season 9's winner of Survival Challenge! From never camping in my life to learning how to make fire, meeting and playing with actual contestants from Survivor, and outlasting 23 other contestants, this game was absolutely EVERYTHING! The amount of detail in producing this event blew my mind, and I knew I wanted to become a part of production to continue supporting this amazing event.
I'm a huge Survivor and reality TV fan, and currently live in Los Angeles, CA, with my fiance, David :). Identifying as both Black and Queer, my identities have always motivated me to advocate for diversity, equity, and inclusion, which is also why I became a licensed relationship therapist.
When I'm not supporting people in the therapy room, I spend my free time nerding out to Pokemon and Yugioh, going to the club with my besties, and putting together fabulous outfits that express my creativity, like the beautiful short-shorts I wore during my season haha. If you are looking at this and are thinking about applying, DO IT AND BE YOUR WONDERFUL, AUTHENTIC, EXPRESSIVE, UNAPOLOGETIC SELF! That's what I did, and it got me the win! I can't wait to see what future seasons of SC have in store 😉 !!!!
Hi, I'm Kathi. I'm an Engineer by profession and I've been a volunteer with Survival Challenge since Season 1 back in Durham, Maine. I was Facebook friends with Bob Crowley after he won Survivor: Gabon but had never met him. When he sent out a PM to all his Facebook friends asking if anyone would like to help with a Survivor Challenge event on his property in Maine that fall, I immediately responded with, "Heck YEAH!" I have been a part of the production team that year and every year since. I help design, build and run challenges. If it involves ropes and/or knots, you can pretty much guarantee that I had something to do with it. SC has become a major part of my life. I have met some of the nicest and most down to earth people in the world and I can't imagine my life without these people in it. My other favorite things to do are Geocaching, traveling and spending time with my dog Bailey.
I played Survival Challenge in 2018 during its first season at its new location in Illinois. I had a blast getting to play realistic Survivor challenges, "sleeping" in the pouring rain, and coming in 4th! I loved getting to experience the game firsthand and knew I had to come back as a volunteer. Since then I have been on the video team, edited the recent SC seasons based in Macomb, and am now a Field Producer. Through SC I have discovered a whole group of Survivor superfans who I'm proud to call my "SC family." I live in Dayton, OH and am a reading specialist at an elementary school. When I'm not talking about or playing online Survivor games, I'm traveling, hiking, renovating my house, or playing board games. Fun fact: I've won a live Mole game, Amazing Race game, and a city-wide Easter egg hunt finding the grand prize trip to Vegas!
I'm formerly Jenn Vataha – yes, John's daughter. So, I've been involved with Survival Challenge since the very beginning! After a two-season stint on the Survivor Dream Team, I helped bring Season 1 of the Durham Warriors Survival Challenge to fruition and have been doing it ever since! On the production team, I oversee challenge setup and provide instruction to our challenge spotters. I am also a member of the casting team. SC has always been a family affair for me – my husband, then fiance, competed in Season 1 – and I love that we have been able to share this wild adventure together for so many years. My son was born in 2019 and I'm looking forward to him joining forces with the other SC kids of his generation to crush it in SC 2038. The best part about this game is that the family grows every year. My favorite part of every season is after it's all over when we get to hear about how life-changing the experience has been for so many of our contestants. It's the most humbling and gratifying feeling and I'm thankful for every single volunteer who helps make this thing happen, year after year!
William Hermonat
Production
Hello my name is William Hermonat! I started filming for season 4 of Survival challenge in 2016 and since then have lead the video production and editing teams for SC. I also host survival challenge's podcast called Behind The Player. Back when I first joined I knew nothing about Survivor, and I learned everything there is to know about the game while filming and watching it play out right in front of my eyes all those years ago in Maine. Now I'm a huge fan of survivor, I've played multiple online games and even played survival challenge itself in 2019. This event is a highlight for me each year and the community is so amazing and is responsible for hundreds of people I now call friends. If you're looking for an adventure, a life changing experience, and the closest thing you can get to being on the show itself, you're in the right place!
I joined the Survival Challenge family back in 2018 when I competed on Season 6, the first season in Macomb, IL. As crazy as it may sound, the Survival Challenge was a life-changing experience for me; it's what introduced me to this insane world of Live Reality Games and a community of people who love Survivor just as much as I do (if not so much more).
I am honored to be a part of the production team so that I can help pass the incredible experience that I got onto others! I specialize in challenge design and am a mainstay in the Art Department (the Crafty Crew!). During the event I'm a Field Producer, but when I'm not conducting confessionals or managing tribe movements, you'll typically see me prepping challenges, ensuring rules are being explained fully, spotting challenges, and running around behind the scenes making sure that everything runs smoothly.
Outside of the Survival Challenge, I live in Springfield, IL, and work as a State Auditor. Hobbies include hiking, crafting, and traveling the world imagining that I'm on the Amazing Race. ????
Can't wait to see you out there!
Like everyone on the production team, I'm a lifelong Survivor superfan who felt compelled to play when I heard about the SC. I competed in the 2016 season of Survival Challenge, where I lived out my dream: after five days, I had outwitted, outplayed, and outlasted all the rest to earn that year's title of Sole Survivor! Survivor has been a passion throughout my life, and after playing in the SC, I was asked to join the Production team, where I have since contributed my knowledge of the game to bring the same life-changing experience to future contestants every year. As one of our lead Field Producers, I do a little bit of everything, but players get to know me especially well when they're spilling all their secrets to me in daily confessionals – I'm a coffee addict, but during Survival Challenge, I want all the tea! When I'm not grilling players about their game decisions, I live in Nashville, TN working in Finance and in my spare time I enjoy playing board games, video games, watching movies, and writing; if you're interested in my thoughts on the real show, I'm a featured blogger with a weekly Survivor column at www.truedorktimes.com, a website aptly fitting to feature me, who is best known among my friends and family for being a "true dork" when it comes to my love for Survivor.
This feels like a full circle moment and beyond surreal, but HELLO EVERYONE! I am Season 9 finalist, Isiah! My Survival Challenge journey was most definitely one for the books. Being able to not only play a game that I love, but also playing it with integrity, kindness, and newfound strength was something I will NEVER forget and to be able to experience the next chapter of SC from behind the camera this upcoming season is an absolute dream of mine!
Growing up, I watched Survivor religiously with my mother every Sunday night (and yes Survivor used to be on Sundays)! I fell off during my teenage years, but I then rekindled my love for the show during my late teens, especially due to the boost of diversity I began to see and I've have been a fan ever since. Even though we had amazing winners, such as Jeremy and Wendell, as someone who is multiracial and queer, the lack of diversity always struck as an issue that needed a solution and Survival Challenge gave me the chance to make a difference within the LRG community.
During quarantine, I discovered the ORG community and just how massive it actually was. The only experience I had prior to Survival Challenge was playing two games of Survivor on Facebook, one in which I made the Final 3. In the midst of the pandemic, I created my own ORG through Animal Crossing and did a deep dive into the universe of the game of Survivor. Along the way, I discovered international versions, simulators, and yes, live games!
Playing Survival Challenge was an experience I know I'll never have again. It is truly one of the most loving and supporting communities I've ever been a part of. The dedication that John Vataha and the SC team have in bringing the most authentic and detailed experience absolutely exceeds expectations and not only that, but they know how important it is to bring underrepresented people to the limelight and give everyone an equal chance to be the absolute champions they can be. I am eagerly awaiting at the chance to see YOU this summer in Macomb!
Much Love,
Isiah #SeeYouSoon
From hosting themed-parties, making my non-Survivor friends turn on each other, to founding the college Survivor organization at Ohio State, Survivor has become a pretty encompassing part of my personality– which is why being a part of the Survival Challenge production team is so amazing!
I played SC during Season 7, taking on the role of Kelley Wentworth and negating 9 votes against me at a single tribal council… only to be voted out at the next one. If you keep up with us on social media, you've probably seen me hosting the live streams on Facebook since then- keeping family and friends back at home up to date on how their loved ones are doing in the game.
When I'm not planning for the upcoming SC season, I'm playing board games, reading fantasy fiction, watching Taskmaster, or attempting (and failing) to learn to sew.
I'm one of the original "found out about SC because of Adam Klein crew" and my life has never been the same since! With zero prior knowledge of the LRG/ORG community, I had no idea what I was getting myself into when I played in season 8. Despite getting voted off just before the merge, I was still able to form such special connections with other members of my cast and even volunteers from seasons past. After my season ended, I knew it was goal to end up on production so I could help give back and further the game, especially for women.
I live just outside of Indianapolis, Indiana with my husband Javin (a fellow SC alum). We actually met in none other than Macomb, IL while both going to school and playing collegiate athletics at Western Illinois University before SC made its way from Maine to Illinois. I love getting to travel back to the town I called home for four years and share pieces of it with my newfound family, its truly like SC and me were always meant to be.
Survivor has been a huge part of my life ever since I learned of its existence in 2005. I've been playing and running online reality games basically ever since. Somehow it wasn't until 2019 that I found out about live games, watching season 7 play out over the live feeds with awe. Two years later (thanks, COVID!) I got my shot to play season 8 in Macomb.
The experience was incredible. I was able to participate in challenges that I could only dream of doing, narrowly avoid being voted out at the first two tribals I attended, and survive all the way to the merge. There, I got to live my dream of being a chaos agent, ultimately causing my own demise when I forced a rock draw at the final six where I was subsequently eliminated from the game. Along the way, I met incredible people and formed long-lasting relationships cemented by this crazy unique shared experience.
Playing Survival Challenge was one of the greatest adventures I've ever been on, and I'm so glad to have the opportunity to help replicate that journey for future competitors as a member of production. As an avid board game geek and student of game theory, I hope to introduce new strategic dilemmas to keep all future players on their toes. Watch out!
My wife, Jordan played in the first Survival Challenge and couldn't stop talking about it. She made it very clear that I had no option but to play in the next year. I am blessed to have played and have been actively involved since playing. Since Survival Challenge moved from Maine, I have had the privilege to act as a board member, challenge builder and property host. During the event I get to help run challenge set up, property maintenance, and any other odd job that might pop up. Before the event happens I get to coordinate all the local logistics. I absolutely love everything about Survival Challenge and love providing the opportunity for people to play a Survivor-like game.
Jordan Szechowycz
Production
In December 2010, I met Bob and Peggy Crowley and meeting them ultimately led to meeting some of my best friends and people that I now consider family. I had the great privilege of competing in season 1 of Durham Warriors Survival Challenge. I didn't win the game, but I still feel like a winner. I get to experience our great Survival Challenge family reunion every year in my own backyard. In 2018, the game moved to my property in Macomb, Illinois. I love being a part of creating this experience each year for a new group of strangers that become family by the end. Leading up to the event, I attempt to secure local donations to help support the event and especially for our amazing volunteer team. During the event, I can generally be found tribe handling, helping with confessionals, or doing anything else that pops up throughout the weekend. Preparing for Survival Challenge has become a year-long event for my family every year, and I love every minute of it!!
Hi there! I'm John Vataha, creator and host of Survival Challenge and leader of the planning team. That role includes providing vision for the overall direction of each season and coordinating with the other producers to ensure that each event is executed with excellence. My favorite personal contributions are the many twists and creative elements that keep contestants guessing what is coming next.
The initial idea for the challenge came to me back in 2012 after meeting many other hopeful Survivor applicants at various charity events. I realized that the level of passion such fans would bring into the game would make a smaller scale version of the show not only competitive but also a lot of fun. A "chance" meeting with then recent Survivor winner Bob Crowley provided the location for the initial event and after a year of planning the Durham Warriors Survival Challenge (now Survival Challenge) was born.
Little did I know that Survival Challenge would provide many of what are now his closest friends and an extended family of enthusiastic people that come back year after year to be together and create an authentic Survivor experience for the next group of contestants. For me, that fellowship is what makes the work that goes into Survival Challenge worthwhile.
GALLERY
Want to know what Survival Challenge is all about? Click to view images from our past eight seasons.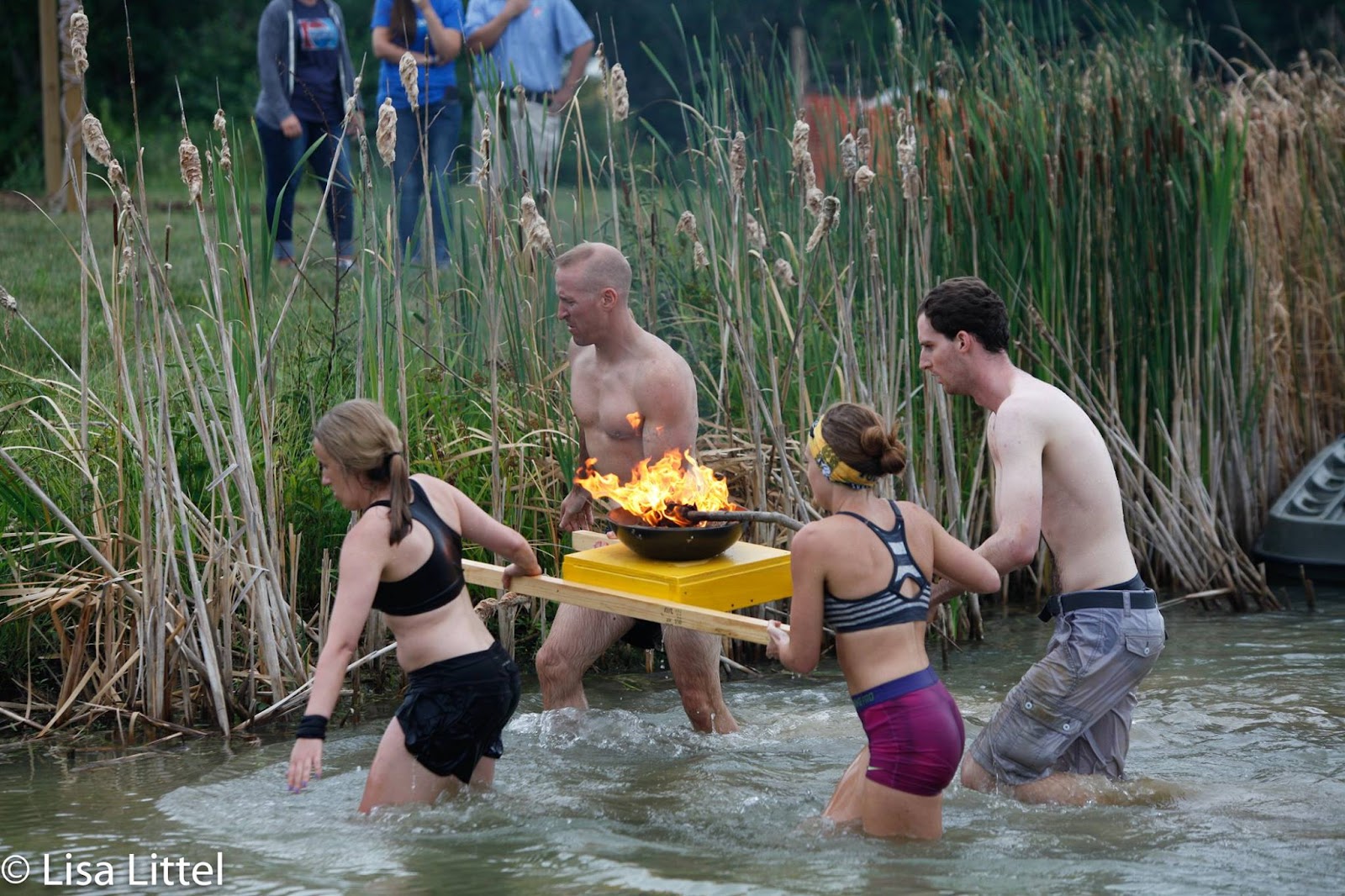 Let's Get Started
Make the best decision of your life! Submit that application!