Production
The only way Survival Challenge is possible is with our amazing production team. An army of people who bring life to Survival Challenge. Some of the roles we have on production: Game Master, Host, Videographers, Editors, Crafty Crew, Challenge Developers, Idols & Advantages, Web Developers, and Casting. Most production members wear many "hats".
Back in 2013, one of the readers of my Survivor strategy blog emailed me and asked, "Have you heard of the Durham Warriors Survival Challenge? I think you'd like it." Lou, that master of understatement, was wildly incorrect: I loved it. I applied. I played. I lost. But really, I won: I was invited to join the production team, and I've been helping shape the game ever since. (John Vataha is the true mastermind, but I'm his sounding board and game design idea refiner.) I'm also involved with casting, and once the season is underway, I oversee the Field Production team while conducting confessionals, doing exit interviews, and trouble-shooting the eleventy billion things that come up throughout the event. It's elegant chaos, and I love every minute of it. What started as a way to experience the game of Survivor has become something far more profound: the SC team is family, and every summer, the pilgrimage to Macomb is a reunion, a homecoming, one that I share with my son and my dearest friends. And to do all that while chasing people around in the woods and making them vote each other out? Heaven.
Hi, I'm Kathi. I'm an Engineer by profession and I've been a volunteer with Survival Challenge since Season 1 back in Durham, Maine. I was Facebook friends with Bob Crowley after he won Survivor: Gabon but had never met him. When he sent out a PM to all his Facebook friends asking if anyone would like to help with a Survivor Challenge event on his property in Maine that fall, I immediately responded with, "Heck YEAH!" I have been a part of the production team that year and every year since. I help design, build and run challenges. If it involves ropes and/or knots, you can pretty much guarantee that I had something to do with it. SC has become a major part of my life. I have met some of the nicest and most down to earth people in the world and I can't imagine my life without these people in it. My other favorite things to do are Geocaching, traveling and spending time with my dog Bailey.
I played Survival Challenge in 2018 during its first season at its new location in Illinois. I had a blast getting to play realistic Survivor challenges, "sleeping" in the pouring rain, and coming in 4th! I loved getting to experience the game firsthand and knew I had to come back as a volunteer. Since then I have been on the video team, edited the recent SC seasons based in Macomb, and am now a Field Producer. Through SC I have discovered a whole group of Survivor superfans who I'm proud to call my "SC family." I live in Dayton, OH and am a reading specialist at an elementary school. When I'm not talking about or playing online Survivor games, I'm traveling, hiking, renovating my house, or playing board games. Fun fact: I've won a live Mole game, Amazing Race game, and a city-wide Easter egg hunt finding the grand prize trip to Vegas!
I'm formerly Jenn Vataha – yes, John's daughter. So, I've been involved with Survival Challenge since the very beginning! After a two-season stint on the Survivor Dream Team, I helped bring Season 1 of the Durham Warriors Survival Challenge to fruition and have been doing it ever since! On the production team, I oversee challenge setup and provide instruction to our challenge spotters. I am also a member of the casting team. SC has always been a family affair for me – my husband, then fiance, competed in Season 1 – and I love that we have been able to share this wild adventure together for so many years. My son was born in 2019 and I'm looking forward to him joining forces with the other SC kids of his generation to crush it in SC 2038. The best part about this game is that the family grows every year. My favorite part of every season is after it's all over when we get to hear about how life-changing the experience has been for so many of our contestants. It's the most humbling and gratifying feeling and I'm thankful for every single volunteer who helps make this thing happen, year after year!
I first heard about Survival Challenge from a Reddit post back in January 2019 and knew I had to apply! After playing in Season 7 (and finishing third; I officially hate final twos), I joined Production as a Field Producer, a lofty title that really means, "Making sure all of the craziness happening behind the scenes at least appears to run smoothly to the cast and audience." Additionally, I conduct confessionals, ensure advantages are accounted for, and fill in other roles when necessary. I absolutely love this role because of how close I get to the contestants; being able to see the players scramble, getting their thoughts in confessionals, and being right in the middle of the action at challenges is like having seats on the 50 yard line for a season of Survivor.
At first glance Survival Challenge is a way to live out your dream of competing in the show, and it does an AMAZING job at replicating this in a 5-day game. However it is the time after the game that has impacted me the most, as the casts and crew of SC have become my family as the bonds built are truly ones that will stand the test of time.
I joined the Survival Challenge family back in 2018 when I competed on Season 6, the first season in Macomb, IL. As crazy as it may sound, the Survival Challenge was a life-changing experience for me; it's what introduced me to this insane world of Live Reality Games and a community of people who love Survivor just as much as I do (if not so much more).
I am honored to be a part of the production team so that I can help pass the incredible experience that I got onto others! I specialize in challenge design and am a mainstay in the Art Department (the Crafty Crew!). During the event I'm a Field Producer, but when I'm not conducting confessionals or managing tribe movements, you'll typically see me prepping challenges, ensuring rules are being explained fully, spotting challenges, and running around behind the scenes making sure that everything runs smoothly.
Outside of the Survival Challenge, I live in Springfield, IL, and work as a State Auditor. Hobbies include hiking, crafting, and traveling the world imagining that I'm on the Amazing Race. 🙂
Can't wait to see you out there!
Like everyone on the production team, I'm a lifelong Survivor superfan who felt compelled to play when I heard about the SC. I competed in the 2016 season of Survival Challenge, where I lived out my dream: after five days, I had outwitted, outplayed, and outlasted all the rest to earn that year's title of Sole Survivor! Survivor has been a passion throughout my life, and after playing in the SC, I was asked to join the Production team, where I have since contributed my knowledge of the game to bring the same life-changing experience to future contestants every year. As one of our lead Field Producers, I do a little bit of everything, but players get to know me especially well when they're spilling all their secrets to me in daily confessionals – I'm a coffee addict, but during Survival Challenge, I want all the tea! When I'm not grilling players about their game decisions, I live in Nashville, TN working in Finance and in my spare time I enjoy playing board games, video games, watching movies, and writing; if you're interested in my thoughts on the real show, I'm a featured blogger with a weekly Survivor column at www.truedorktimes.com, a website aptly fitting to feature me, who is best known among my friends and family for being a "true dork" when it comes to my love for Survivor.
Justin McCoubry
Production
After playing Survival Challenge in 2019, I've become somewhat obsessed with the live game community, and specifically ensuring every interested Survivor fan has the opportunity to play this game they love.
Survival Challenge, for me, was a life changing experience. Being a part of the team that brings that same experience to others, and the community of people that volunteer, play and watch, has been truly rewarding in ways I never expected. I strongly recommend anyone who is interested apply to play; you'll find friends and a family of likeminded Survivor fans, and connect in a way you never knew was possible.
Since playing in 2019, I've played in a few other live games, and produced my own online game, Pandora, which ran for 17 seasons from 2020 through 2021. But, it all started here, with Survival Challenge – an experience that tested me, boosted my confidence, inspired me, and best of all, gave me a shot to get a little taste of the greatest game in the world.
Hi there! I'm John Vataha, creator and host of Survival Challenge and leader of the planning team. That role includes providing vision for the overall direction of each season and coordinating with the other producers to ensure that each event is executed with excellence. My favorite personal contributions are the many twists and creative elements that keep contestants guessing what is coming next.
The initial idea for the challenge came to me back in 2012 after meeting many other hopeful Survivor applicants at various charity events. I realized that the level of passion such fans would bring into the game would make a smaller scale version of the show not only competitive but also a lot of fun. A "chance" meeting with then recent Survivor winner Bob Crowley provided the location for the initial event and after a year of planning the Durham Warriors Survival Challenge (now Survival Challenge) was born.
Little did I know that Survival Challenge would provide many of what are now his closest friends and an extended family of enthusiastic people that come back year after year to be together and create an authentic Survivor experience for the next group of contestants. For me, that fellowship is what makes the work that goes into Survival Challenge worthwhile.
GALLERY
Want to know what Survival Challenge is all about? Click to view images from our past eight seasons.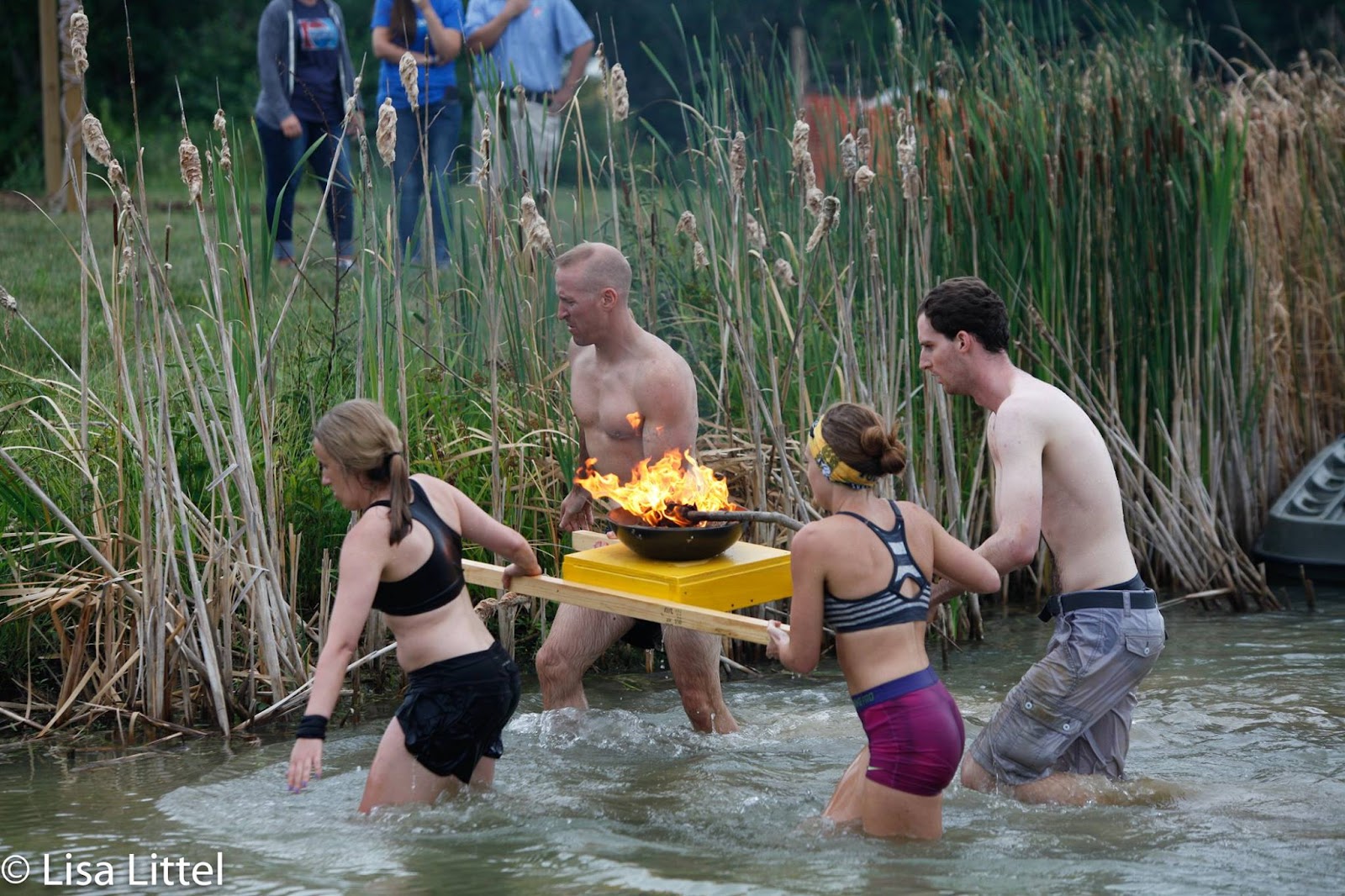 Let's Get Started
Make the best decision of your life! Submit that application!